ida, pingala and sushumna,
Psychic nerve currents through which prana flows from the central spiritual sun, in the center of the Universe, God in any one of his 10,000 names.
Ida and pingala intertwine the spinal column (shown diverging far outside the sushumna for sake of illustration).
They begin at the muladhara chakra, cross at the manipura and the vishuddha chakras and meet at the sahasrara.
Ida nadi, pink in color and feminine in nature, the Moon, connected with the parasympathetic nervous system and the vagus nerve which controls the speed of the heart, is the channel of physical-emotional energy. It flows downward, ending on the left side of the body.
Pingala nadi, blue in color and masculine in nature, The Sun, connected with the alpha male sympathetic nervous system and the fight or flight reaction, is the channel of intellectual-mental energy. It flows upward, ending on the right side of the body.
THE CIRCULATION OF THE ENERGIES Therefore there is a circle of energy between heaven and earth which exists in the center of the Antahkarana Tower. Around both ida and pingala is a spiral of energy therefore two intertwining spirals - like DNA - to make one tower. This image is the secret of the Kundalini Kriyas and the Alchemical Taoist Meditational Orbits - both taught in Level 1 of Energy Enhancement meditation.
Sushumna, the major nerve current, pale yellow in color, becomes activated when Ida and pingala have been harmonised and integrated, usually by Alternate Nostril Breathing and Pranayama, holding the breath, as taught in Energy Enhancement Pranayama - wait for the DVD! It passes through the spinal column from the muladhara chakra at the base to the sahasrara at the crown of the head. It is the channel of kundalini. Through yoga, the kundalini energy lying dormant in the muladhara is awakened and made to rise up this channel through each chakra to the sahasrara chakra.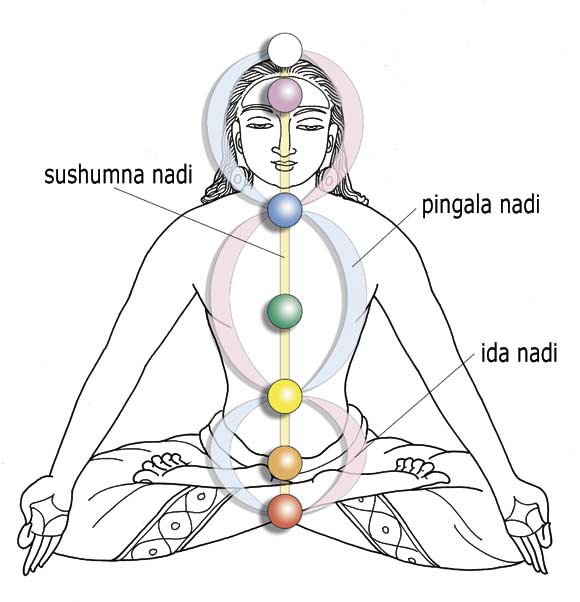 IDA AND PINGALA ARE THE SNAKES OF THE CADUCEUS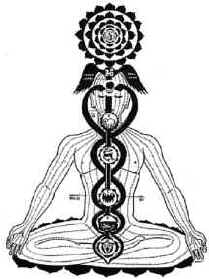 THE CADUCEUS FROM MERCURY THE GREEK GOD ORIGINALLY CAME FROM INDIA
IT SHOWS THE ENERGIES OF IDA AND PINGALA - THE TWO SNAKES - INTERTWINING AROUND THE CHAKRAS OF THE PHYSICAL BODY AND SHOWS HOW THE ANTAHKARANA GOES HIGHER INTO THE CHAKRAS ABOVE THE HEAD. THE STAFF OF THE CADUCEUS IS THE ANTAHKARANA, THE COLUMN OF ENERGY BETWEEN HEAVEN AND EARTH. THE FAT PIPE CHANNELING THE HOLY SPIRIT.